Skilled Commercial and Industrial Painting Services
in the Greater Philadelphia Area
Do You Have a Commercial Painting Project
We Can Help With?
Services Overview
Commercial Painting
Does your company require experienced commercial or industrial painting services? American Painting and Decorating has served customers in the Greater Philadelphia Area for over three decades. You can count on our highly skilled team to supply the type of specialized painting assistance required for projects large and small. Contact us when you are seeking the services of an expert licensed and insured painting contractor.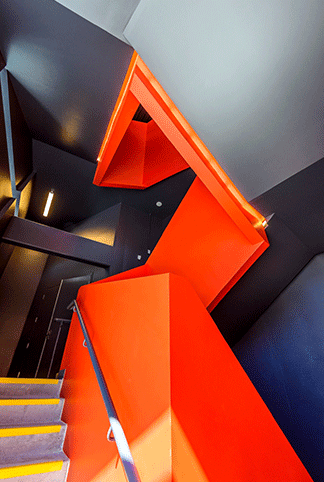 Painting a plant, shopping mall, office building, or a hospital cost-effectively and safely demands the skills of expert painters. We offer some important advantages. Consider some excellent reasons to hire American Painting and Decorating for your job:
We know the properties and characteristics of various brands of paints and industrial specialty coatings and how to apply them to various substrates.
We have invested in the equipment and supplies required to perform optimally.
We are continually learning about new products and techniques in the industry.
We communicate well with the project manager on site. Furthermore, if we detect problems involving painting specifications at a job site, we will alert your project manager to key issues promptly.
Our firm has obtained accreditation and awards from the Painting & Decorating Contractors of America (PDCA).
We are able to work in challenging and physically demanding environments.
We strictly follow OSHA safety standards.
Many painting contractors only know how to serve new construction or residential markets in this part of Pennsylvania. American Painting and Decorating, however, offers a full range of services including experienced industrial and commercial painting. Depend on us to paint building interiors and exteriors as well as specialized facilities and operational assets.
This field demands both care and skill. When you select a contractor to paint your facility, you want to ensure you have chosen a firm capable of adhering to OSHA safety regulations and high-performance standards. We do! Our personnel know the correct procedures to follow to apply a variety of different types and brands of paints and specialty coatings. We will work closely with you to help ensure these applications meet your enterprise goals and needs effectively.
Experience: By choosing an experienced licensed and insured painting company to apply paints and coatings, you benefit from a contractor's familiarity with different substrates, paints, specialized coatings, and tools. Our team does not need to satisfy a learning curve in order to complete projects for you efficiently and accurately. We stand behind our work to offer guaranteed satisfaction!
A Local Business: We possess intimate familiarity with Philadelphia and the surrounding regions. Our company's superb reputation in this industry speaks for itself! Our satisfied customers do not wonder where to go for their next commercial painting project. They know they can obtain expert assistance by relying on American Painting and Decorating for all their industrial and commercial coating and painting requirements.
High Standards: Selecting a painting company that adheres to high industry standards also offers important advantages. Building managers understand that the application of paint and other coatings in an industrial or manufacturing setting poses significant safety risks unless performed correctly. When you choose us as your designated contractor, you will gain the assurance that we require our personnel to adhere to robust safety and quality protocols. We won't endanger your employees or your facilities by cutting corners.
Commercial Exterior Painting
The exterior of your office or building is the first impression that is given to the public before they walk in. If the paint is old, poorly done, or aging badly then you may be losing out on revenue without even being aware of it. That is why it is so important that you focus on updating your exterior paint. By choosing to update or maintain your paint job now, you will save money in the long run while pulling in more customers.
At American Painting and Decorating, we specialize in all types of commercial exterior painting, industrial painting, and specialty coating. We know how important your business is to you and we focus on providing you with the most comprehensive service possible in Philadelphia, PA. That is why we focus so much on the little deals that will make you stand out on the block and offer highly competitive pricing.
Our highly trained commercial painting contractors will manage every aspect of your paint job so that you can focus on managing your building without any distractions. Our company is an accredited contractor through the Painting & Decorating Contractors of America and our clients can tell by the work that we do. Our highly trained service team has a deep understanding of local laws for the work that we do and come equipped with the required training and licenses for scaffolding and rigging to ensure the highest level of safety.
We are familiar with all the latest equipment and techniques that are used in commercial exterior painting and have an in-depth understanding of the properties and characteristics of all types of paint. Having worked in this business for over thirty years, our team is knowledgeable in the application of various finishes to a variety of substrates so that we are able to guarantee a quick turnaround at a price point that your business is able to afford.
We provide a variety of different exterior painting services and are the premier choice for clients throughout the Philadelphia, PA area. We are experienced in managing and completing painting projects on every scale and can assist you with any variety of applications of various finishes to a variety of substrates. We can provide your business with the following services:
Office Painting
Roof Painting
Window Painting
Storefront Painting
Exterior Brick Painting
Railing & Fire Escape Painting
Restaurant Painting
Stucco Painting
And More
Our list of services is one of the most comprehensive in the area and we offer a 100% satisfaction guarantee. We have completed work in some of the most challenging environments and feel confident in saying that our paint technicians are the best in the area at the best price point.
We focus on three main aspects in our business to ensure that you are getting the best exterior paint job possible. These include the following:
Attention to Detail – We know that the smallest detail in your paint job can make the largest difference when it comes to pulling clientele. That is why our team takes the extra time to ensure that our workspace is completely ready before we put the first layer of paint down.
High-Quality Products – We only utilize the best paint, products, and equipment for every job. We work within your budget even with the best tools in painting and have a focus on choosing environmentally friendly tools in all our projects.
Best Painting Technicians – With over thirty years in the painting industry, we know that our product is only as good as our team. That is why all of our painting technicians come with years of experience and the highest level of training possible. Our team is one of the best in the business and you can tell by the quality of work that we provide at every job.
If you are ready to finalize your new office building or have decided that your storefront could use a fresh coat of exterior paint, CONTACT US at American Painting and Decorating. We are the #1 best commercial painting contractor in the area and we are ready to help you with every aspect of your commercial exterior paint job on a budget that you can afford.
HOA and Condominium Painting
Have you searched for capable condominium painting services in the Greater Philadelphia Area? In southeastern Pennsylvania, condo associations, property management firms, investors, and condo owners rely on American Painting and Decorating to perform experienced building painting. Contact us soon to explore how we can assist you on an ongoing basis!
Today, residents of Philadelphia, PA enjoy a wonderful selection of condo properties. These living spaces frequently display a townhouse architectural style. However, you'll also discover attractive condominium communities in converted apartment complexes, school buildings, office buildings, large houses, or even renovated industrial sites. Painting these structures requires flexibility and expertise in applying both interior and exterior paints and protective coatings.
American Painting and Decorating offers extensive experience in the field of commercial painting contracting. We understand the need to use environmentally safe paints and varnishes to maintain residential properties (including condos) in an appealing, stylish condition. Relying on the services of our expert commercial painters ensures your condo units showcase your development to its best advantage. Our firm has worked in this niche market for well over 30 years. We enjoy the distinction of serving as a Painting & Decorating Contractors of America ("PDCA") Accredited Contractor.
In Philadelphia, PA and outlying parts of the Keystone State, customers rely on American Painting and Decorating to provide a number of key condominium painting skills. As industrial painters, we possess the equipment and tools required to paint every level of a building. Call us to place an order for any of these services:
Indoor condo painting of private residential and common public areas
Outdoor painting services
The application of protective coatings and varnishes to protect metal, concrete, tile, stone, or wooden railings, balconies, fences, flooring, walkways, lobbies, and carports
Complete or partial painting during condo expansions and renovations
Ongoing selective maintenance painting assignments to ensure a condo complex maintains optimal curb appeal throughout the year.
Our team of specialists welcomes the opportunity to meet with members of your Condo Association in person or by phone. Consider asking American Painting and Decorating to submit bids for specific condominium painting projects within our areas of expertise.
The appearance of a house reflects the care and attention invested by property owners. A condominium includes both individual units and shared common areas and amenities. The Condo Association typically assumes primary responsibility for maintaining the exterior in an attractive condition. The appearance of every unit reflects upon the condominium community as a whole.
In this respect, condo boards and property management firms play a vital role in upholding realty values for their membership. Ensuring the provision of regular, ongoing painting services furthers this goal. American Painting and Decorating remains committed to working with you closely to make sure your property owners receive outstanding painting services. Most residential painting companies cannot offer the comprehensive level of support we supply. We do not only paint building exteriors and interiors, we also provide experienced assistance applying protective coatings, stains, and varnishes. These coatings protect a variety of different surfaces. They ultimately help preserve and enhance the overall appeal of the community's real estate.
Why do condominium management firms select us as a preferred painting contractor in the Greater Philadelphia Area? We offer a number of advantages. Consider designating us as your building painting company of choice:
We enjoy a well-established business reputation as commercial painters in the Philadelphia Area
Our company utilizes cutting edge painting equipment and techniques
We understand the properties and characteristics of paint and industrial coatings
Our painters possess familiarity with the application of finishes on a variety of different substrates
We perform careful painting preparation
Our team of painters also undertakes thorough painting site cleanup, so we do not leave customers with messy, paint-splattered surroundings
We'll work around a customer's business schedule to complete projects on time with a minimum of disruptions
To receive further information about our condo painting services or to request a meeting with one of our firm's representatives, simply contact American Painting and Decorating now. We welcome the opportunity to submit bids for condo painting contracts. We look forward to assisting you whenever you seek expert paint or protective coating applications for condominiums.
American Painting and Decorating has extensive 30-year experience painting office complexes. We understand that offices pose a unique set of challenges due to the often crowded and tight spaces, lots of equipment and furniture to work around, and the need to stay up and running even during minor construction. Our professionally trained staff are able to work productively in these challenging environments with minimal disturbance to the environment and staff.
We will work with you to coordinate a schedule and are able to work evenings and weekends when necessary. We offer the following services related to office buildings in the Philadelphia and surrounding region:
Interior and Exterior Painting using the highest quality materials and products
Specifying appropriate products for specific substrates and conditions
Specialty Coatings (i.e.: intumescent paint, block fillers, electrostatic painting, etc…)
Waterproofing
Wallpaper removal and installation
Epoxy floor coatings
New Generation (Hybrid) seamless floor coatings and continuous cove bases
Decorative finishes such as line striping
Licensed designer services including color match and color consulting
Virtual design services using pictures of your building or office space
Carpentry
Floor coverings
We can do a full-service cosmetic remodel so that you do not have to hire a general contractor and several different subcontractors to get your project from vision to completion. Eliminating a middle man also means you save money. We have working relationships with the finest craftsmen in the industry and our designers are licensed and very talented. Look no further than American Painting and Decorating!
Fully licensed and insured
Background-checked employees (Criminal History and Child Abuse History)
Fully trained staff
Follow strict OSHA safety standards/OSHA certified
Clean and neat
Painting and Decorating Contractors of America (PDCA) accredited contractor
American Painting and Decorating has everything it takes to be your top industrial painting choice. Our industrial painting services offer a streamlined experience from your first inquiry to the final walk-through. If you need to use unique colors for your facilities, we have a team ready to match the colors for conformity across all your locations.
Our company provides painting contractor services to suit any need and tackle possible problems. The professionals we use are trained to ensure that everything is as hassle-free and as safe as possible. Your happiness with the job that we do matters to us.
One of the services we offer is the use of maintenance services for the floors, walls, and ceilings of your facilities. The coatings that we use are suitable for many industries where facility hygiene matters, including food manufacturing plants and medical facilities. No matter how intense your need, we will work hard to make sure everything is done according to corporate or industry standards.
Your company's storage tanks and bins can get a whole new lease on life with specialized coatings. The electrostatic painting technique we use is especially suitable for lockers, conveyors, and all sorts of machinery. When you use these types of tools, it's important to make sure they have the maximum amount of protection to eliminate wear.
Some of the reasons to consider our industrial painting services include:
Over 30 years of experience in all aspects of industrial painting
Handling all types of industrial painting and coating, from storage containers to buildings
Painting & Decorating Contractors of America (PDCA) accredited contractor that ensures quality
An in-depth understanding of paint and coating characteristics to better adapt to any need
Experience in recent techniques and equipment use so we can adapt to any need
The right knowledge of different finishes for several types of applications
Adaptive to changing environments that are common in the world of industrial painting
You will hear from one of our Industrial Painting experts shortly after you get in touch with us. We will make sure we know what you want from the painting job well in advance of anything being done to ensure that everything works as smoothly as possible. Some of the information that we can use in this process includes photos, specifications, and building plans. One of the things we can do during the preliminary period is to make sure the services we are offering are within your budget.
When our professionals visit your site, we will be able to give you a better idea of what's needed for your location. The options that we discuss with you will be based on the most important factors, including:
The space we have available to work within your location
Materials that will be used for the job
Surface materials where paints and finishes will be used
The timeline for completing the work and how flexible that timeline is
A budget that works for your needs with or without some adjustments
How to best accomplish the task without disrupting work
You will know what we intend to do before work starts to avoid any delay-causing misunderstandings. We also work hard to make sure you're delighted with every aspect of the job.
When we provide our clients with a proposal, they will know what we intend to do with no detail left untouched. We will make sure you are happy with everything before we start any work so that we can do the very best job for your needs. After all, our total success with the job depends on your satisfaction, and we will go over and above if necessary, to ensure that you are happy.
Because of the number of options we offer, we can adjust everything to suit your needs if the initial proposal doesn't quite meet your budget expectations, a situation that often arises when dealing with industrial structures. Some of the things we can adjust to meet your needs include materials that we will use and overall project scope. The better we understand your expectations, the better our chances of meeting your needs.
Once this process has been completed, we'll be able to move on to getting your project done on your schedule. The location will look as good as you expect, if not even better. We focus on also making sure we do the job with minimal disruption to your business operations, which is crucial to locations with a high volume of business activity.
At American Painting and Decorating, your overall satisfaction always matters to us.
Epoxy Floor Coatings and Hybrid Seamless Floor Coating Systems
American Painting and Decorating is your "look-no-further" contractor when seeking and evaluating seamless floor solutions. We have been certified in applying the highly sought after V8 Floor Coating systems and products. V8 will only sell to certified and proven experienced installers. Let us help you to solve all your floor care problems. Challenges to solve may include ensuring a commercial food service kitchen is up to code for an inspection or to improve the ability to clean and maintain a dusty warehouse floor to name just a few. Our state-of-the-art products combined with our highly skilled installers will guarantee you are getting the best floor coating job available on the market.
Our polyaspartic and polyurea hybrid formula is the newest generation of epoxy floor coating products on the market today. Out with the yellowing, toxic smelling, and lengthy processing epoxies of old. Our Hybrid XT formula is no VOC, non-yellowing, UV-resistant and quick curing contributing to quicker turn-around times with minimal to no down-time for your company. Our coatings are also highly chemically resistant and durable ensuring many years of life. What most facilities managers and property owners love most about our floors besides the quick and painless installation and the beautiful aesthetic, however, is the ease of cleaning and maintenance. Unlike cheaper VCT tile, which requires constant buffing and waxing, and grouted tile which captures dirt, our continuous floor coatings need only routine vacuuming and mopping with warm soapy water!
We have eight (8) different systems from which to choose. We will make recommendations for which system(s) best fits your needs after a visit to your site and a short interview. The following is a list of our floor systems:
Hybrid XT pigmented solid and clear 2-coat systems
6.0 High Performance Epoxy solid and clear 2-coat systems
Hybrid XT Full and Random Vinyl Chip 5-coat system
Hybrid XT Quartz Double Broadcast 7-coat system
Hybrid XT Platinum Color Pigment 4-coat system
Hybrid XT Mica Chip System 6-coat system
PermaTec 4000 and 5000 Corrosion Resistant System
Perma Coat 4000 and 5000 Corrosion Resistant System
Contact American Painting and Decorating today for a free quote on epoxy floor coatings to meet your every need. We have many satisfied and repeat customers. We do floors for:
Warehouses
School hallways and cafeterias
University lecture halls
Commercial kitchens
Firehouses
Animal shelters, veterinary offices, and hospitals
Service areas
Trash Rooms
Garages
Sidewalks
Pool decks
Bathrooms
Lobbies
Labs and clean rooms
Manufacturing plants
Mail rooms
And More….
We also supply and install tile, wood, carpet, and specialty flooring so you do not have to hire several subcontractors to meet all of your flooring needs.
Our insured and licensed firm promises complete customer satisfaction
All of our installers criminal background checks
We possess experience working in challenging environments
Our company strives to maintain an excellent safety record. We follow OSHA safety guidelines and supply ongoing safety training to our installers.
We have invested in high-quality tools and equipment
We furnish floor coating services throughout the Tri-state area
We have 30 years of experience
Contact us today for a free quote. We employ some of the most talented and experienced floor installers available. Contact American Painting and Decorating for personalized assistance now. We look forward to working with you!
We have developed relationships with our partners and know we are getting excellent products at the best possible price. We also have access to design experts to advise us on complex solutions.
We value at our very core being Exceptional, Efficient, and Exceeding Expectations….